By Anushka Jha ~ Law College Dehradun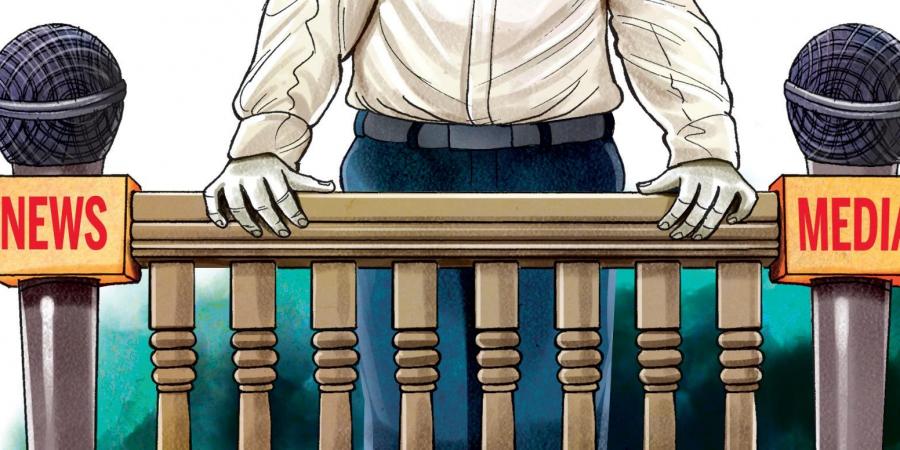 Introduction
Media is considered as the fourth pillar of democracy as it is a link between the government and the general public. It plays a significant role in changing the opinions of the society by making them aware of social, economic and political activities. It is considered to be a mirror of society. As stated in the case of India Express Newspaper Ltd. V. Union of India[1] "Freedom of the press is essential for the proper functioning of the democracy". But in recent times media is seen to be deviated from its objectives as against their professionalism and ethics Media Trials are often conducted in every criminal case in which citizens are misled, and false opinions are formed among the people by presenting them tampered facts which are different from the facts. This false opinions formed creates undue pressure on the functioning of the judiciary, and justice is lost somewhere. This paper presents the meaning of media trial and the conflict of freedom of speech and expression with right to free trial.
Media Trial
The concept of media trial came for the first time in the 20th century in the case of Roscoe "Fatty" Arbukel case in 1921 where the person lost his reputation even after being acquitted because of the perception made by media in the minds of the people. Till date, there are a series of criminal cases in which media affected the reputation of the people by creating a false image in the minds of the people destroying the essence of justice. In some of the cases to grab public attention media even discloses the personal life of the people involved even if it has nothing to do with the case and thus violating the Right to Privacy of both accused and victims. Like in the murder case of Sheena Bohra the personal life of the accused Indrani Mukherjee was disclosed although that has nothing to do with the case. There are many infamous cases where media trial has influenced the judgement like in the case of Jessica Lal Murder case, Bijal Joshi Rape case, Nitish Katara Murder case and many more. No law of the land empowers media to conduct a media trial. 
In simple terms, it can be said that creating an image of a person as "accused" in the minds of the people through various mediums like newspaper, television etc. even before his crime is proved in the court of law.
Right to Freedom of Speech and Expression v Right to Free Trial
Freedom of speech and expression means freedom to express one's ideas, views and opinions. It is considered as an important facet of democracy and has been guaranteed under Art.19 (1) (a) of the Constitution. Art. 19(1) (a) within its ambit also includes freedom of press. It is said that "freedom of press is species of which freedom of expression is a genus"[2]. As stated by Justice Venkataramiah in Indian Express Newspapers (Bombay) Pvt. Ltd. V. Union of India (1984) that "Freedom of press is the heart of social and political intercourse. The press has now presumed the role of the public educator making formal and non-formal education feasible in a large scale particularly in the developing world, where television or modern communication devices are not still available for all sections of society." Media plays a very vital role in gathering public opinion in various cases especially which involves matter of women or children or high profile cases of celebrities or politicians. But, freedom of speech and expression is not absolute it comes with reasonable restrictions under Art. 19(2) which means freedom of speech and expression can be enjoyed till it's within the restrictions of clause 2. As rightly stated by the Supreme Court that "absolute, unlimited and unfettered freedom of press at all times and in all circumstances would lead to disorder and anarchy". Therefore, Media in the name of speech and expression has no authority to go beyond the restrictions which can cause contempt of court. Contempt of court means civil contempt or criminal contempt.[3]Criminal contempt means the publication (whether by words, spoken or written, or by signs, or by visible representation, or otherwise) of any matter or the doing of any other act whatsoever which-
Scandalizes or tends to scandalize, or lowers or tends to lower the authority of, any court, or
Prejudices, or interferes or tends to interfere with the due course of any judicial proceeding, or
 Interferes or tends to interfere with, or obstructs or tends to obstruct, the administration of justice in any other manner.[4]
Comment on pending case or abuse of a party may amount to contempt when the case is tribal by a judge[5] and no editor has a right to assume the role of investigator to try to prejudice the court against any person.[6] These acts have been termed as contempt because these can mislead the public and affect the rights of the accused of fair trial. Under Indian Constitution there are provisions where Supreme Court[7] and High Court[8] has power to punish for their contempt.
Right to fair trial has been guaranteed under Art.14, 20, 21 and 22(1) of the Indian Constitution, Art.14 of the International Covenant on Civil and Political Rights and Article 10 of the Universal Declaration of Human Rights. Supreme Court in the case of Zaira Habibullah Sheikh v State of Gujarat[9] has explained fair trial as "trial before an impartial judge, a fair prosecutor and in an atmosphere of judicial calm". In the case of State of Maharashtra v. Rajendra Jawanmal Gandhi[10] Supreme Court has held that there is procedure established by law to govern the conduct of trial, and trial by media is converse to the rule of law. If the right to fair trial is denied it causes much injustice to accuse as it is to the victim. A journalist can be held liable if he publishes anything which infringes the right of free trial.
In many cases Supreme Court has observed that trial by media (Social media or electronic media) is against the general rule of law and is causing miscarriage of justice and so the Supreme Court has cautioned the media for publication of issue which is prejudiced[11]. In Arushi Talwar Murder Case the parents were declared as accused by media trial even before the trial started. Recently in Sushant Singh Murder Case media changed public opinion through their publication about the suspects and labelled them as accused even before the initial investigation was completed.
 Law Commission in its 200th Report has made an attempt to reconcile Freedom of press and right to free and fair trial. It has recommended amendment in the Contempt of Courts Act, 1971 and has prohibited journalist from being prejudge in any subjudice matter.
Conclusion
To sum up, it can be said that although media is considered as an essential element of a democratic country but in recent times media has portrayed itself as "Janta Adalat" where the cases has been resolved and the persons are labelled as accused even before the actual trial by any court of law and due to which justice is denied and the rights of the accused as well as victims is bargained.  According to Criminal Jurisprudence "every accused is presumed to be innocent unless the guilt is proved". But nowadays this right has been hampered by media. Due to unhealthy competition of high TRPs media mould the facts and opinions of the people. It is a time when the media is to be regulated and penal provisions must be imposed if it deviates from ethics of journalism.
---
Citations
[1] AIR 1986 SC 515.
[2] Sakal Papers V. Union of India AIR 1962 SC 305
[3] Sec 2(a), The Contempt Of Court Act, 1971.
[4] Sec 2(c), The Contempt Of Court Act, 1971.
[5] Subhash Chand v.S.M. Aggarwal, 1984 Crl LJ 481 (De.).
[6] The District Magistrate v.M.A. Hamid Ali gardish, AIR 1940 Oudh 137.
[7] Article 129, The Constitution Of India.
[8] Article 215, The Constitution Of India.
[9] (2004) 4 SCC 158.
[10] (1997) 8 SCC 386.
[11] M.P. Lohia v. West Bengal, Appeal (Crl.) 219 of 2005.
Media Trial: Right to Freedom of Speech and Expression v Right to Free Trial