By Prathana Patel ~ GLS Law College.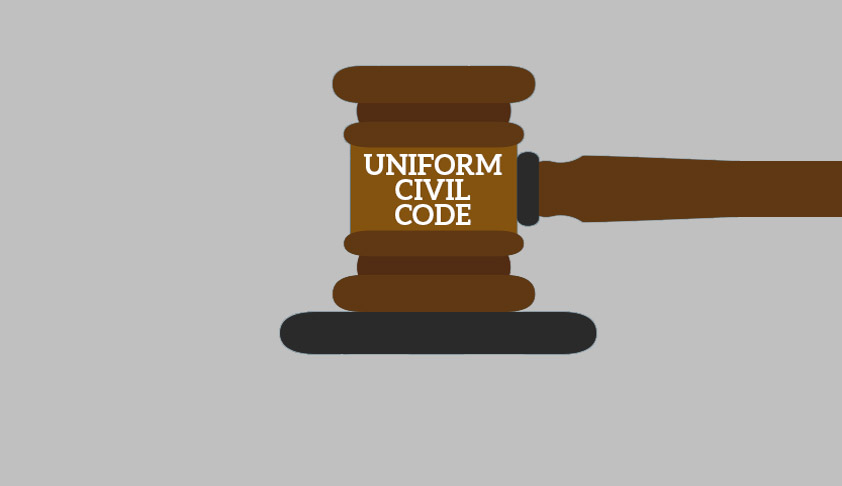 "I personally do not understand why religion should be given this vast, expansive jurisdiction    so as to cover the whole life and to prevent the legislature from encroaching upon that field. After all, what are we having this liberty for?"
Dr. B R Ambedkar.
Introduction:
Indian constitution has licensed Uniform Civil Code in its Article 44 as, 'Uniform civil code for the citizens The State shall endevourto secure for the citizens a uniform civil code throughout the territory of India[1].' UCC is a proposal of codifying personal laws to provide equality, justice and harmony to Indians. It governs everyone equally irrespective of their class, caste, religion and community. To provide equality to the citizen this could be an idle situation for a developing country like India. But when it comes to enforcement of some laws it isn't like walking on a butter!
The history itself speaks about the communal riots taking place whenever thegovernment had taken any major decision of passing bills concerning personal law. On other hand India too witnessed that how the government successfully passed Triple Talak Bill by taking the Muslim community into confidence. It has to be looked upon by the existing laws too, because if the state enforces UCC then several contradictory statutes would have to be amended.  
Current Status of Personal Law in India: 
This is the most debated issue till now, as there are various contraventions in present laws. India is amongst the countries where Sharia Law can be legally practiced.  Presently, Goa is the only Indian state to enforce Uniform Civil Code in personal laws but for the rest of India the religious diversity of India will play most challenging role in enforcing UCC. Parliament has already codified some of the Hindu laws namely:
Hindu Marriage Act,
Hindu Succession Act,
Hindu Minority and Guardianship Act,
Hindu Adoption Act
While Muslim personal laws are still governed traditionally under Shariat Law of 1937 which clearly states that the state shouldn't interfere in the matter of personal disputes, not only this even Buddhists and Sikhs objected Article 25 stating Hindu law applies to them. While it remained unnoticed that it is the same article providing freedom to Sikh carrying Kirpan in a country where you are forbidden to move with any arms. There has been seen contradiction in the demand and non – requirement of uniform civil code, Supreme Court in this matter urged for the same and Law commission in 2018 stated it as undesirable at the present stage. In its political approach it has been in manifesto of Bhartiya Janta Party in 1998 and 2019.
Need of Uniform Civil Code:
The foremost need of UCC is to curb the discrimination created by various personal laws based on religion and sexes. It is believed that by implementing the uniform civil code it will provide equality and justice in the court of law to women and minor sections of society in terms of marriage, divorce, succession, child custody, adoption inheritance rights etc. Various Hindu acts have been codified, but Special Marriage Act not only applies to Hindus but also to non-Hindus and foreigners marrying in India, where registration of marriage and divorce can be obtained under this act in case of special form of marriage.    Other than this the acts like Christian Marriage Act, Parsi Marriage And Divorce Act were enacted and amended as per the requirement.
The Supreme Court through its judgment has backed the UCC, in the judgment of Seema vs. Ashwani Kumar, directed all states to form law of compulsory registration of marriage in a time bound period. It was believed that the judgment  highlights issued and will control the child marriage, polygamy/bigamy, unconcerned/forced marriage, marriage with foreigner, selling of girls by the name of marriage. But it's successful implementation isn't observed yet.
Similarly, in the case of Vishva Lochan Madan V. Union of India and Others, the court highlighted the challenges created by the additional courts. Through this judgment the direction was passed by the apex court for restraining such institutions from interfering in the marital status of women or passing any judgments and Fatwas in the matter of marital disputes. Under Muslim law marriage is a contract so registration of the same is done through Nikah Nama but actual problem is in maintenance of wife, Mehr is given to the women before marriage and the same is considered for marrying the women and maintenance. Major issue of giving talak as husband practically waives the marriage just by saying talak thrice and this lefts women nowhere in the society. Further adding to this under Muslim personal law polygamy is allowed but polyandry is strictly prohibited. The problem isn't limited to Muslim Law, in Hindu law due to the community recognition at various places the Khap panchayats are organized they are neither constitutional body nor legal bodies yet are running actively. The biggest issue created by this panchayats is of honor killing.
Relevance of Shah Bano Case:
This was once the most controversial case which grabbed political attention, Shah Bano was divorced by her husband after 40 years of marriage and claimed maintenance after divorce. Her husband said Talak thrice and denied maintenance. The apex court ruled the judgment in her favour under section 125 of All India Criminal Code providing maintenance to wives, children and parents also it applies to every citizen irrespective of religion. It was supported by the government too but when the congress party led by Rajiv Gandhi lost the state election due to this then they reversed the same and was opposed by women's organization stating in 1986 no women were provided maintenance by Wakf board. Women activists also highlighted that there are several laws governing women but there is no single law which is secular for women, where the dominance of patriarchy is absent. Here, the legislature failed the judiciary but fortunately president of India gave assent to Triple Talak bill last year.
Advantages of UCC:
Promotes national integrity.
Protects weaker sections
It will simplify legal system and lessen the burden on the judiciary.
Gender Justice will be established.
 It will fulfill the mandate of Article 44 Indian Constitution. 
Overlapping of laws will be eliminated by implementing UCC.
Challenges of Implementation of UCC:  
In the famous case of Keshvananda Bharti, the Supreme Court held that conflict of fundamental rights and the amendment made, if amendment made conflicts the pre existed laws or the basic structure of constitution then the amendment will be considered as 'ab initio'. 
Above all challenges implementing UCC will be the most difficult task as India has various cultures , traditions and beliefs. It is also important to study the personal laws governed presently as it isn't a mere political issue but this change will result to social and cultural disruption. To enforce UCC we need to amend various current laws for example the definition of marriage in Hindu Marriage Act says that marriage is solemnized when a men and women seven Ferahs around holy fire and it shouldn't be lesser than that. Also in Muslim religion various schools are been followed and their perspective, origination and jurisprudence  too varies. It is yet not clear even after several debates how it will be implemented if it is going to be implemented also, how to overcome the challenges pertaining in present. The belief of any community cannot be changed just by bringing any new legislation as the rituals followed like Mehr, concept of marriage, method of divorce has great importance. UCC somewhere contravenes the Indian constitution, freedom of religion under article 25, under article 26(b) which upholds religious sovereignty and permits the maintenance of own affairs. There is a fear in minorities regarding their culture after the implementation of UCC.    
India is a developing nation is itself a challenge, adding to that currently during and after COVID 19 pandemic the priorities of both people and state have changed. To regain the GDP or to stabilize the economy, unemployment due to pandemic, reverse poverty has again become the major concern.
Conclusion:
Justice Y V Chandrachud once remarked how UCC will help in strengthening the national cause of integration by removing conflicts. However, no statutory book depicts the laws concerning the family disputes which may be capable of governing the various sects , religion, cultures and on the same hand it provides justice without hurting anyone's religious sentiments and belief. It also has to be seen that times have changed so do the laws need to be. 
The UCC cannot be implemented in one go as it can create havoc, instead it can be done partly. The drafting of said needs major attention as shouldn't harm the fundamental rights of the citizens and shouldn't contravene the articles of the Indian Constitution. Further dynamic demand created due to the current situation has also to be looked upon as this law will bring changes political, economic, social, cultural, religious structure. At this the spur of moment only codification won't comply with justice, it can only be done through UCC. It can be concluded that the implementation of Uniform Civil Code falls into both situation need and not an need of an hour as the situation after COVID has changed
---
Citations
[1] https://indiankanoon.org/doc/1406604/
Uniform Civil Code: Need of an Hour or Not?